We Need Your Help to Keep Going…
Since our beginning in 2010, NSW Hen Rescue has liberated thousands of hens and other factory farmed animals from places of abuse and exploitation. We have shared the stories of those individual animals to help people connect with them and see that like dogs and cats, they deserve our respect and compassion. NSW Hen Rescue is entirely volunteer run – we are a small, but dedicated group of vegan, animal activists.

We have been running the rescue from our rented homes and we've had to move 7 times in the past 10 years! Whilst I am thrilled for the hens everytime we do a rescue, I feel that we are struggling uphill trying to rescue and rehabilitate without the facilities we need and we just can't keep doing it this way.

When space outside has been taken up with special needs hens, I have sat in my living room with the floor covered in newspapers and sheets and 20 newly liberated hens jumping on the sofa and stretching their legs for the first time whilst we wait for their adopters to pick them up.
Whilst these 'hen parties' might be fun, the set up is far from ideal. I wish the hens could be outside experiencing their first fresh air and sunshine, their first dust baths and glimpse of the blue sky. I also wish instead of rescuing 20 hens at a time we could rescue 50 or even 100 girls, but we are limited by our resources.
If we cannot secure a permanent location we will need to wrap up the organisation in January 2021.
All animals living with us will be safe and cared for, for life, but we will not be able to take in any more animals or conduct rescues, rehoming or investigations.
We're doing our best, but our best could be so much better with your help!
So what's the big plan?
Our 10 year anniversary seems the perfect time to take things to the next level and do our best to save the hen rescue. We don't want to give in without a fight and we are excited to chase the goal of a permanent rescue centre for NSW Hen Rescue. A space where we could take on more special needs residents and many more fostered hens waiting for homes. Below will be what we can do if we are able to secure 1 acre of land and a small house. If we get more land we can do more. :
– A small and basic residence so David, myself and volunteers can be close to the animals to ensure their safety and care.
– Enclosures for our special needs residents designed with their security and needs in mind. For example, animals that struggle with ramps and steps will have entirely flat houses and enclosures. In our rentals we have been unable to construct ideal homes for our beloved feathered family, but with your help this can change.
– Pond with sloping entry/exit for fostering/permanent ducks (our current set up is very unsuitable for ducks and results in complaints from the real estate agents). This makes it hard as we are often called on to help ducks who have been dumped and have noone else to help them.
– Weather proofing: some of our special needs animals such as Ariel the ex-battery hen, who has some brain damage, really struggle in the rain. A permanent space would allow us to build ideal structures for these animals. We would also install a mister system for cooling in the Summer.
– Flight aviary for Rafael the indian ringneck and Robin the pigeon. A space for more birds who have been rescued from small cages.
– The Boys' Club – A series of enclosures for roosters to be fostered or to find permanent sanctuary. This will be run in conjunction with our education program about the problems with hatching projects.
– At least 6 ex-battery hen fostering areas. These will be 10m x 10m enclosures. Fully predator proof for flocks of 25 hens to adjust to their new life whilst we rehabilitate them and get them ready for their forever homes.
– Medical centre – This may sound grand, but it may just be a sterile room in the house or an out building like a caravan. This is where we will have an oxygen tank, heat lamp, recovery enclosures, medications etc.
– Barn/large shed that can be set up to keep the hens comfortable in extreme weather.
– Air conditioned room for use in extreme heat, especially for heavy breeds (rescued meat industry birds etc.)
– A space to hold workshops on animal rights, chicken care and veganism. A space for volunteering and community. But most importantly a space for individual animals to feel safe and experience freedom for the first time. We can go from rescuing around 400 hens a year to liberating thousands of hens from cages every year.
– We can go from telling the stories of hens on social media, to allowing people to come and sit with the hens on their first day of freedom and watch them flap their wings for the first time.
– We can go from feeling the threat of eviction every time newly rescued hens crow with overwhelm about their new environment, to embracing the noises of their new life.
– Instead of stressing about moving animals to foster carers for rental inspections we can use that energy to concentrate on new education programs.
– We can go from the enclosures we have now, which must be able to be taken down when we leave the rental, to permanent structures made to cater for our special needs animals' needs.
We can finally live up to our tagline of Liberate. Educate. Inspire.
How will we make this happen?
The way we are currently operating is not sustainable. But one thing is clear: we need to find a permanent home for NSW Hen Rescue.
No more rentals.
No more relocating.
The vulnerable animals we rescue deserve security and safety.
It's now time for us to buy a property to call our own – a rescue centre dedicated to rescuing, rehabilitating, rehoming and providing safe and forever homes to the beautiful animals our rescue advocates for.
We need to raise enough money for a deposit for a property located near enough to Sydney CBD so David can continue commuting to work and pay the mortgage.
We don't want to shut down the rescue, but without a permanent location it is simply not sustainable.
The Future of Hen Rescue
Every time we liberate an animal from their life of suffering we make them a promise. A promise that they will be cared for, respected and loved for the unique and beautiful individuals they are. However we need the infrastructure in place in order to do this. At present we are only able to liberate 20 hens per rescue and rescues will cease in January 2021 if we cannot make changes. With a permanent sanctuary, we could, at the very least, triple this number on a regular basis.
Our fundraising goal of $150,000 will be enough for a deposit to ensure NSW Hen Rescue can continue and grow.
But we can't do it without you.
We were there for these animals when they had no one else and now we need you to be here for us.
Together as a community we can make this Hen Haven a reality.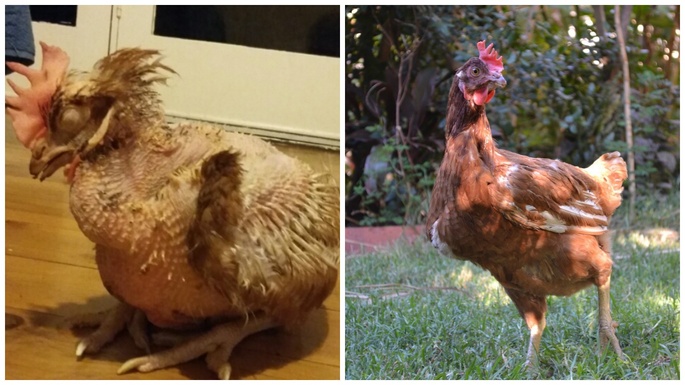 The above photo is Frida just after rescue and Frida a couple of months later. She fell off a slaughter truck breaking her beak in the fall and we nursed her back to health. Now she lives with our permanent special needs flock. With your help we can help thousands more hens like Frida.
You can join us
To all of our Hen Rescue family, our loyal supporters, friends, families, and our dedicated followers … We are hoping you will join us and help us make our dream to keep the hen rescue going a reality and help us save more lives.
We are looking forward to you all being a part of this new chapter for NSW Hen Rescue. On behalf of the many hens whose lives you will help save and and all of us at Hen Rescue we thank you from the bottom of our hearts.